DIME – Digital Media – A Bridge to Inclusion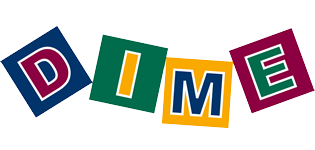 THE IDEA BEHIND THE PROJECT
In society today there are great opportunities to make use of media applications for developing key competences of marginalised groups. There is a wide range of learning environments that are accessible and user-friendly and offer potential learning opportunities for marginalised groups that are at the same time attractive and engaging.  However, the educators are often unprepared, or even unwilling, to engage in the new environment, because it undermines their perceived role as educators. They have difficulties accepting that in this evolving education landscape the traditional model of institutional based provision is no longer the only one.
Adult and community education programmes are the places where real educational innovation takes place. They are free from the shackles of institution based provision and considered more useful and convenient by adult participants. Despite of these facts, there is still a significant lack of appropriate in-service training to support the continuous professional development of educators and nowhere is this more apparent than in the adult and community education sector.
DIME project partners realize that the support for those in need of education is only possible through supporting the education providers. The emphasis should be put on the role of the teachers, who might feel endangered by the technology. They need to be ensured that nowadays their role is even more important than it used to be in the past. Social networking sites are the new 'street corners' where young people hang-out regardless of their social, economic or educational status. There is a great need for qualified and open-minded educators who will be able to get noticed and listened to in the online world.
PROJECT OBJECTIVES
Being aware of those phenomena the DIME consortium will:
Develop a bespoke in-service training programme for adult and community educators that supports them to use digital media production and digital media platforms.
Develop a comprehensive suite of digital media embedded learning resources for use with marginalised young adults in formal and non-formal settings.
Provide a series of virtual learning and collaborative environments that bring adult and community educators and young marginalised adults in 8 countries together to support exchange of best practice, stimulate collaborative endeavors and raise awareness of cultural diversity.
Key target groups of the DIME project are adult and community educators for whom a bespoke in-service training programme will be developed and the young marginalised adults they work with (early school-leavers in particular) to develop their key competences.
PARTNERS
There are 9 organizations in the DIME Project partnership:
Ballybeen Women's Centre (UK)
Kas Halk Egitim Merkezi (TR)
The Rural Hub (IE)
Callidus obraznovanje (CR)
Reintegra (CZ)
Cooperativa Sociale Prometeo Onlus (IT)
Ośrodek Szkoleniowo-Badawczy INNEO (PL)
Innoventum Oy (FI)
Schweizerischer Verband für Weiterbildung (CH, partner stowarzyszony)
DIME project runs from October 2017 to September 2019 r.
EXTRA INFORMATION:
Project website: dimeproject.eu
Project Facebook page: www.facebook.com/dimepr/